Make your website intuitive
Discover the Particular Audience platform.
Learn more
In 2022, leveraging AI and machine learning for smarter, more relevant shopping experiences is essential for ecommerce success. As customers come to expect greater convenience and better value, AI product bundles are an easy way to deliver great customer experience (CX) and grow sales. 
In this article, we'll discuss what AI product bundles are, how they work, and why they're the ultimate win-win for customers and retailers.  
What are AI product bundles?
AI product bundles are groupings of complementary products that match a customer's shopping intent. They're automatically generated by AI with the deepest understanding of compatibility between items. 
In a nutshell, AI product bundles deliver value and better CX with product suggestions for items that are either highly correlated (frequently bought together) or interdependent (items dependent on each other for use). This makes shopping journeys much more convenient and efficient.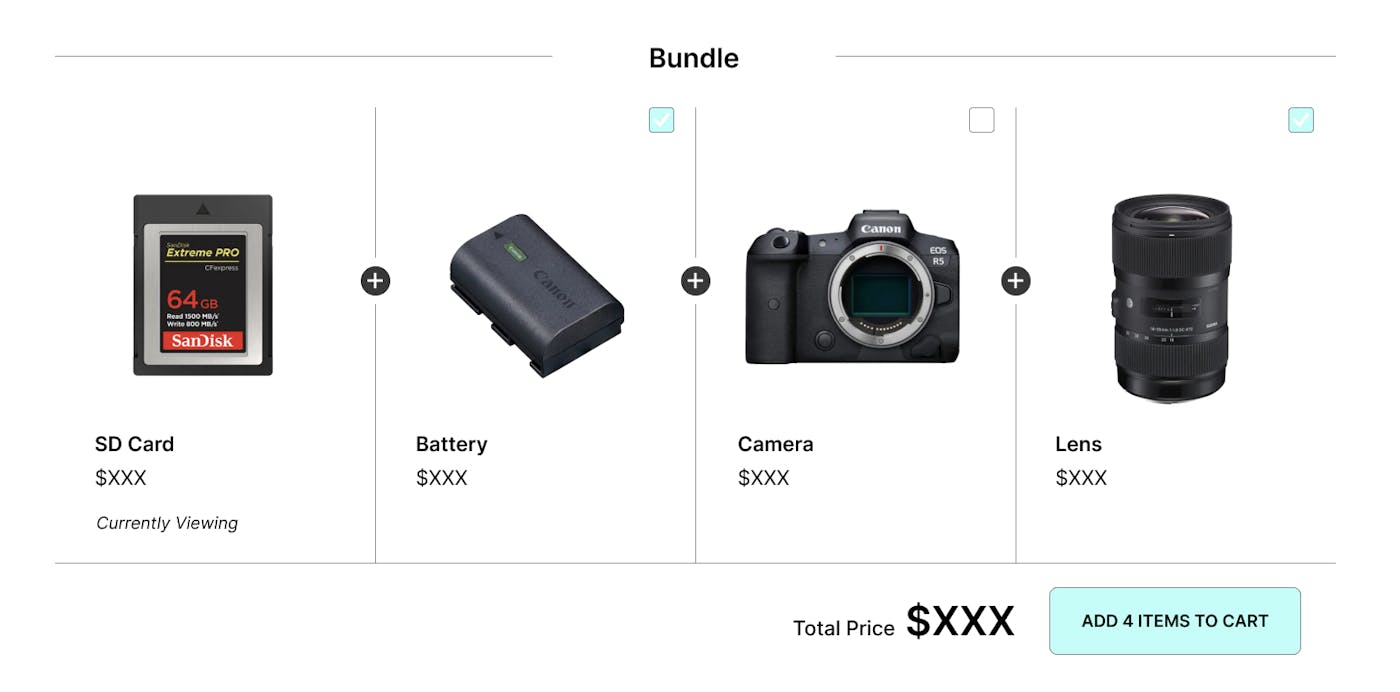 How do AI product bundles work? 
Think of AI product bundles like an extremely accurate prediction service.  
Using machine learning models that understand item groupings as well as collaborative filtering models that identify items often bought together, you can suggest groups of items to shoppers with an extremely high level of confidence. 
These 'bought together logic' algorithms analyze clickstream and purchase data to identify 'clusters' of products and then predict groups of 3-5 items a customer might buy together. 
Why are AI product bundles better than traditional bundles? 
With the ongoing economic downturn, ecommerce managers and marketers are seeking ways to do more with fewer resources. 
The advantage AI bundles have over traditional bundles is that they're automated and scalable - they produce better results than an entire team of people manually building bundles. In fact, AI product bundles continue to learn as data is ingested and are automatically updated, which frees up valuable resources within ecommerce teams. 
Targeting rules also give retailers control over which products and categories are displayed, as well as where on a website bundles are shown by item, category, brand, or price bracket. 
In the case of PA's AI product bundles, integration for retailers is as simple as copying and pasting a tag into GTM or an eCommerce store backend. We do all the heavy lifting of building a custom frontend UI and tracking tags - all that's required of a client to go live is approval of widgets. Our managed service also includes comprehensive A/B tests and advanced analytics with detailed SKU, UPT and AOV attribution reporting. 
By applying confidence scoring, we ensure no irrelevant groups of items are recommended, giving retailers the confidence to ditch manual bundles for good.
What are the benefits of AI product bundles for retailers?
Put simply, AI bundles are a highly effective tactic to drive incremental sales revenue.
Right now, retailers are feeling the pinch on margins due to inflation. With this in mind, bundles are a winning strategy to grow average order values (AOV) and boost units per transaction (UPT) as they incentivise customers to buy more items and make spur of the moment purchases.
With co-dependant items made readily available in the form of bundles, there's no need for customers to scroll endless pages of products to find all the items they're looking for. This, along with an easy one-click UI, reduces the risk of cart abandonment and is a clear win for conversion rate optimization (CRO). Bundles also allow retailers to ship more items per delivery and are an effective strategy to clear inventory.
Ultimately, by improving CX and making shopping journeys easy, AI product bundles increase customer retention and customer lifetime value, turning casual shoppers into loyal returning customers.
Why do customers love AI product bundles?
In ecommerce, the power of convenience can't be underestimated. Consumers want what they want, when they want it, and will think nothing of abandoning your site if they can't find what they're looking for fast.
With this in mind, AI bundles are one of the most effective ways to increase customer satisfaction, making shopping effortless by giving customers everything they need in one place.
AI product bundles are an easy way to increase sales with minimal effort on the part of retailers. They're the ultimate win-win for customers seeking convenience, and ecommerce managers looking to sell more.