Make your website intuitive
Discover the Particular Audience platform.
Learn more
Welcome to our blog series, people of PA. With each post, we'll feature one-on-one interviews with the talented individuals on our global team. You'll get to know the people inside the company, their story of hyper growth and what it's really like working at Particular Audience.
Meet Mukul Jaggi, Data Analyst at Particular Audience. At work, Mukul acts as a bridge between engineering and account management. This means understanding clients' business problems and how our tech can help; including everything from working with clients to helping the engineering team optimize for clients needs accordingly.
Mukul is a proud member of the PA Run Club, gets his motivation from delivering impact and was drawn to PA by his best friend, who's at a B2B tech startup in India.
Here's some background on Mukul and insight into his role at PA.
Q: Hi Mukul. Starting from the beginning, what led you to PA?
A: I've been interested in IT and coding ever since high school. Back in India, I was working for a big software engineering company, and I found that things seemed to get a little stagnant as the company grew. I didn't know it then - but this sparked my interest in joining an earlier stage scale up like PA. I don't want to ever feel stagnant in my learning, and seeing the impact of my work is super important to me.
So, after doing my Bachelors Degree in Computer Science and two years as a Software Engineer in Australia - I decided to do my masters in IT. After a couple of semesters of this I found a passion area in data analytics and data science.
After graduating, two months later I was working at PA. It's been a year and four months since!
Q: Let's start small - can you explain your Bored Ape twitter photo? 😂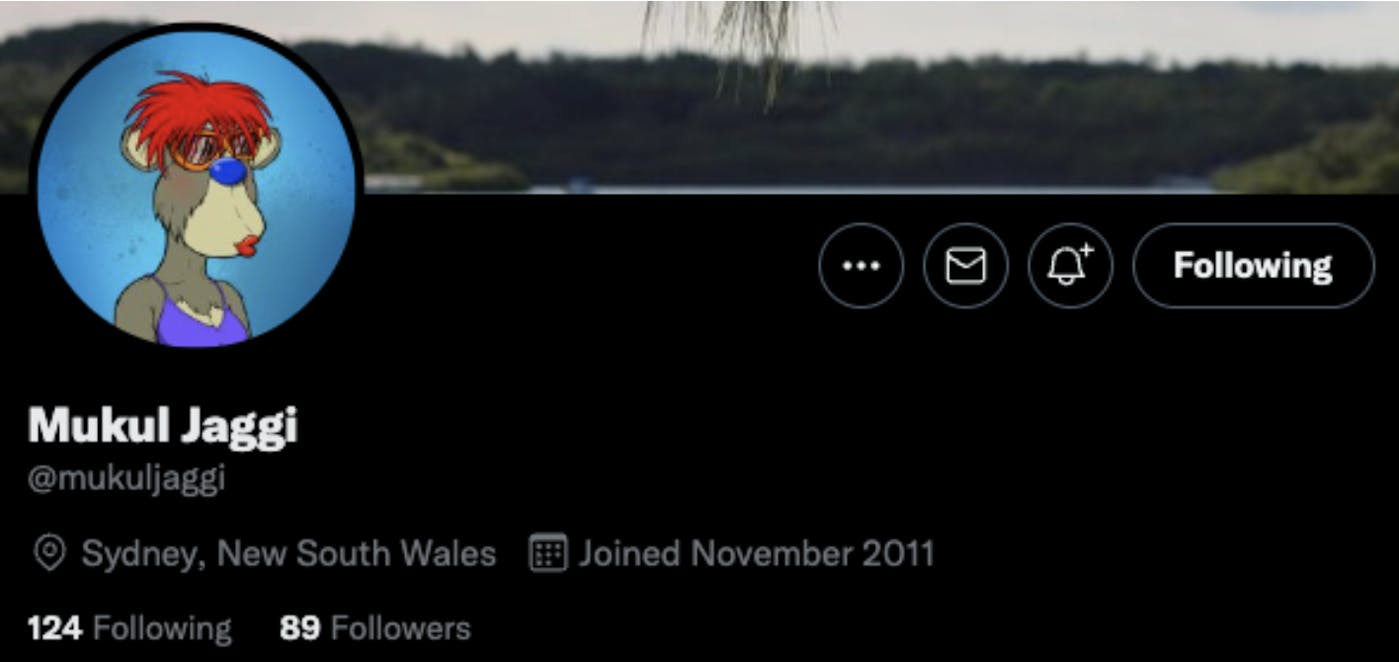 A: It's a knock off Bored Ape photo. It's called "Apes Run the world." The backstory is, Twitter came out with a feature where you can connect your wallet to Twitter. So, I wanted to try it out for myself! I'm not a massive NFT collector, but I'm open to looking into anything that might 10x your initial investment.
Q: I want to hear more about your digital marketing background!
A: My brother has a digital marketing company and I worked with him for about 6-7 months. 
While I was working there, I heard a lot of things about how digital marketing attribution works. Learning about different ideas and concepts helps me broaden my horizons. It helps me to think differently.
Q: You've been at PA for over a year, what has that been like?
A: Things have changed a lot in the past year. When I first joined there were 11 people and we were working within a very flat structure. 
In one year - the organization has grown a lot. From 11 to 50 people!
Also, when I first joined, Similar and PA's Retail Media were in their infancy. 
Working as an analyst keeps me close to the business problems we're trying to solve. I get to work with the clients, know how they're finding products and help the engineering team optimize accordingly. 
Q: What made you join PA?
A: I was excited to work for a company like PA. My best friend used to work in a B2B startup in India. And he loved it. 
I didn't realize it before coming here, that the B2B tech space was exactly where I wanted to be. 
Q: What are you working on at the moment?
A: I'm currently working on client performance and benchmarking reports to ensure that our clients understand how the product is being optimized - as well as understanding how they compare in market.
Apart from this monthly analysis, I want to visualize clients' success and share other potential areas for optimization. 
We're currently trying to visualize product attributes in terms of vectors to help us understand the relationship between different products. 
Q: What projects are on the horizon? Either at work or outside of work?
A: We plan to move most of the analysis to Databricks which will help us automate a lot of analysis. Although this will take some time. Longer term, this will be super helpful. 
A lot of processes at the moment are partially automated - this will make things fully automated. That's what I'm really looking forward to!